Caboodles of Clarinets, Quartets, Vol. 3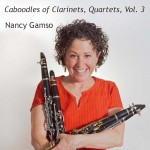 These quartets for four B♭ clarinets range in difficulty from developing through advanced levels and also work well for casual classical gigs, sight-reading and adult amateurs. Here you will find the Mendelssohn Canzonetta and six of the selections from the Rubank Ensemble Classics for Clarinet Quartet, Book 1. Complete publishing information can be found below.
Tracks for each piece below are available separately as high-quality mp3 files.
Or, download the entire set (single zip file): Clarinet-Quartets-Vol.-3
---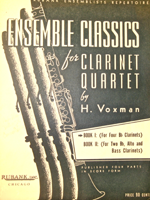 Voxman, H., editor; Ensemble Classics for Clarinet Quartet, Book 1 (for 4 B♭ Clarinets), Rubank/Hal Leonard, 04475327
Artot, Hunter's Round
Bochsa, Andante
Bohemian, Polka
Humperdinck, Prayer from "Hansel and Gretel"
Haydn, Oxen Menuet
Mendelssohn, Equale No. 1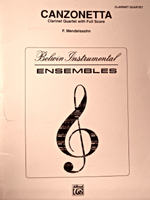 Mendelssohn, F.; DeBueris, John, arranger; Canzonetta for Clarinette Quartette; Belwin Mills, ENS00083